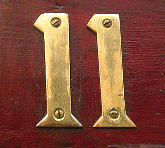 There's not too much to report on the baby front, but since I know many of you are curious how things are progressing, I thought I'd update you on the latest.
I continue to get very strong contractions throughout the day although nothing consistent or painful enough to constitute true labor. Thankfully, the swelling seems to be under control mainly by just sitting with my feet elevated for most of the day. It's negligible in my left leg; ever present in my right. When I stand or sit for any length of time, my right foot turns this awful purple color and the toes begin to look like little sausages, hence the need for constant elevation. Leading such a sedentary existence and without television to while away the hours, I've started knitting my first baby blanket and cross-stitching a sampler of St. Machar's Cathedral. Between that and the internet, I stay fairly occupied. I am amazed at how Addison has adapted to my immobility. He plays quite contentedly in the living room with his toys, and when he wants to read, he'll stand next to me for book after book since it's now impossible to get him on my lap and both of us don't fit lengthwise on the couch. I'm sleeping pretty well at night, a marked contrast to my pregnancy with Addison. It took about a week to get used to sleeping in a sitting position on the couch, but now I'm very comfortable and sleeping quite soundly. I am trying to enjoy these quiet, uninterrupted nights because I know they will be coming to an end all too shortly.
The end of this pregnancy has proved a much greater trial for me than last time. I can only imagine that part of it is living so far away from home, outside of my comfort zone and support network. Although I'm not working full-time late in pregnancy as I did before, I still have a lively 30+ lb. toddler to keep up with who doesn't really understand how our world is about to change. And it's right about now that I start to miss all the niceties of home -- a car, a cell phone, a chicken cheesesteak. Thank you for your kind words of encouragement and steadfast prayers at this time. It is truly what gets me through each day.
My next midwife appointment is Wednesday. Stay tuned...