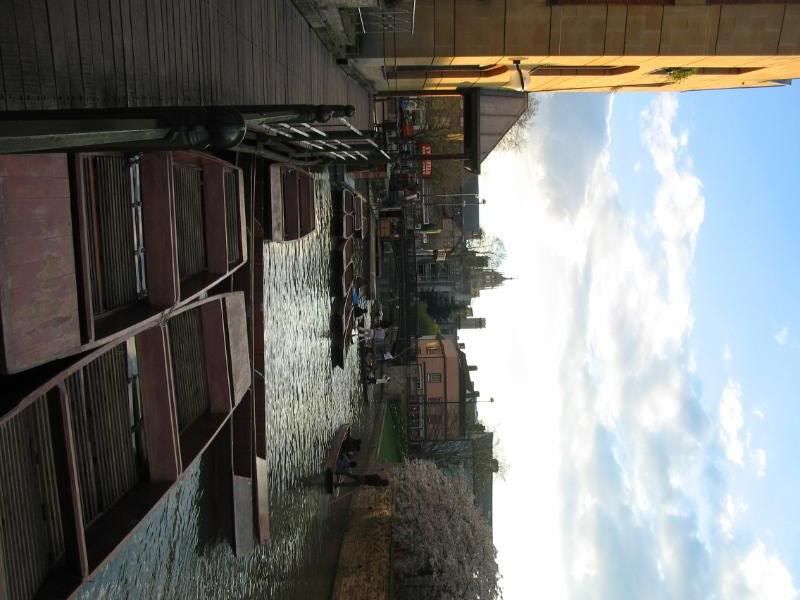 After the University itself, probably the next most famous feature of the town of Cambridge is its punting. The River Cam (hence Cambridge) runs right through the city and it's not uncommon to see flat boats called punts docked along its shores. Trey learned firsthand that the punting industry panders primarily to tourists the way double-decker buses do in London, and there is nothing more humorous than watching a group of visitors try to steer these unwieldy vessels. Around the middle of the video you can witness this for yourself as you hear a group of American guys trying to accomplish the task. What most travellers don't know is that students at Cambridge take great delight in stealing punting poles from unsuspecting tourists as their punt passes below the College bridges, so watch out if you ever go!

Punting in Cambridge is done from the till deck at the rear of the boat instead of from within the boat as is done at Oxford. Presumably this minimizes "dripping" on the boat's passengers and aids in steering by allowing the pole to be swung behind the steerer. Because of this tradition, the punts in Cambridge have reinforced decks to support the added weight.

I have finally posted the Cambridge pictures. They are in the Cambridge 2008 album in the right-hand column.